=1= Navigating the Flight Schedule
If you are wanting to fly a flight for "official" recognition with Air Pacifica, you need to pick a flight from our Flight Schedules (currently offline). These are the officially recognized flights for the airline, and are constantly being updated, added, modified, etc. So it is important that you make regular checks of the schedule before flying your "official" flights (ones that you want to count towards your pilot hours and career at Air Pacifica).
Visit the Flight Schedules (currently offline) page, and read through the section on How to use the Schedule Pages. This will help familiarize yourself with what to expect. (Picture below)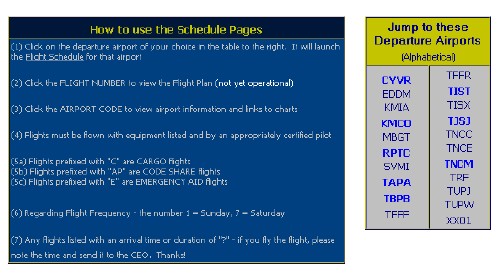 Next, using the yellow/grey table at the right, you are going to want to click on the Airport Code for Cyril E. King airport - which happens to be TIST. Scrolling down this list of available departure flights, you will find one highlighted in GREEN.

You'll want to make note of Flight #1118, so that you can keep your flight as "real" as you want to. As you can see, the flight is set to depart at 11:00am, and is due to arrive at Beef Island at 11:25am. It runs every day of the week, and has been assigned the PA-28 aircraft.
Just right for you!
Also, it is always a good idea to click on the Airport Codes on this schedule page (click on these links for TIST and TUPJ), to find out exact information about the airports, runways, and frequencies that may assist you during your flight. The important information that you will want from these two airport information screens are:
The ATIS frequency for Cyril E. King - 124.00
The runway heading at Beef Island - RWY 07 - 073° / RWY 25 - 253°
The runway length at Beef Island - 3599ft (lots of room for the Piper)
NOTAMs for your departure and arrival airports - Watch for Terrain on departure at TIST, and on arrival at TUPJ
Is your arrival airport equipped with ILS runways - No - Beef Island is VFR only
=2= Finding Your Starting Position
So now that we have the flight information, you can now start up FS, and load your Saved Flight Position at Cyril E. King airport. This should have been done during "What you Need : Step #6", if you have been doing these lessons in order. If not, jump to that page now (currently offline), and get your flight setup at the terminal at Cyril E King airport.
The last thing you can do for extra "realism", is set your World | Time & Season, to be 15 minutes prior to the scheduled departure time - in the case of Flight #1118, you would set your flight time to be 10:45AM - day of the week, and time of year is entirely up to you.
=3= Preparing for Departure
Okay, you've got the aircraft loaded, you're at the Cyril E. King terminal, and you're in Cockpit View. Get out your pen and paper and start making your flight notes:
Date of the flight
Wind speed and direction (tune COM1 frequency to 124.00 for ATIS information)
Altimeter Setting (again from ATIS information) - Set by pressing "B" key
Suggested Departure Runway ("runway in use" from ATIS information)
Also, ensure you have your fuel tanks filled, and that your controls are working (joystick or keyboard). When you're ready to start the engines, make note of the flight time. This will be needed when you fill out the Flight Report Form.
=4= Departure, Cruise, Navigation, Approach
Using due caution, you can taxi your aircraft to the runway of your choice - taking note of wind direction and speed as reported by the Airport's ATIS Frequency (124.00 for TIST). You should NEVER depart an airport under adverse conditions. If the wind is too strong, or if it is a strong cross-wind, and there are no alternative runways that are suitable - DON'T MAKE THE FLIGHT. Your safety and that of your passengers is your TOP PRIORITY.
The route for this flight is quite simple. Based on the departure information standard for RWY 10 at Cyril E. King - all aircraft are required to make an immediate direction change to heading 120 after takeoff - to avoid terrain at the end of RWY 28. This works great for us, because after flying 7 nm on a heading of 120, we can make a left turn to heading 75 and be nearly perfectly aligned for a visual approach to RWY 07 at Beef Island airport.
So startup, get taxiing to the runway suggested (which at St. Thomas is almost always RWY 10 due to prevailing winds direction) - and take off. Start your climb to 1,500 ft and turn right to 120 when you're off the ground and in stable flight.
We know to be at 1,500 ft for this flight because in the Northern Hemisphere:
all Eastbound flights fly at ODD Altitudes in thousands of feet
all VFR flights fly at +500 ft
and since this is a short flight, and we want to take in some scenery, 1,500 ft makes good sense
Assuming you have some flight planning software, you'll know when to make your left turn to heading 075, but if not, with the power set to about 75% on the Piper, and climbing to 1,500 ft at 600 feet per minute, when you level off at 1,500 ft - you're half way to your turn point. About another 3 minutes (5-6 minutes from takeoff), and you're ready to turn towards Beef Island airport.
On your way to Beef Island, you'll pass over a number of small islands with hills. Total cruise time should be about 8-10 minutes (assuming you're doing about 110 knots and 75% power). Standard speed restrictions for ALL aircraft below 10,000 ft is 250 knots. Our Piper doesn't come close to that speed, so you don't have to worry about it now - but remember that jewel of advice for later flights. Especially when online - Air Traffic Controllers (ATCs) really hate it when you speed below 10,000 ft.
As you begin your final descent (about 3-4 miles out from runway 07), the important thing to remember, is that there are terrain warnings for the approach to runway 07 (our target runway for this flight). You'll want to be flying the final approach by hand - so that you can avoid the terrain, and make your final drop into the runway after clearing the hills. It's not a bad approach in the little Piper, but it does get more interesting when you try putting larger aircraft like the De Havilland DHC-6 down on the runway =)
=4= Landing Your Plane
The important thing to remember, is gentle controls and slight adjustments go a long way to ensuring a safe and comfortable landing for your passengers. We're not trying to get the plane down as fast as possible - we want it to touch down without the passengers even noticing (well, okay - maybe too much to ask!). Landing lights on! (CTRL - "L")
NOTE: Always remember to press the "B" key again, when you're on final approach to any runway, to ensure that your altimeter is properly set for your arrival runway. Your altimeter tells you how far off the ground you are - having it incorrectly set can have you belly land hard on the runway, or overshoot the runway - either way big time annoyance =)
Remember to set your flaps - 1 or 2 notches as you approach the runway, and cut back that speed so you're sitting at about 60-70 knots - (Hopefully you read up on the aircraft specs to know the stall speed and operating limits - right?) - and press the "B" key to reset that altimeter.
As you pass over the end of runway 07, you should be no more than 50 feet off the runway, and should have your flaps to full or full minus 1. Cut the throttle, and keep the aircraft aligned to the runway and slightly nose up so it glides down to a gentle landing on the runway. You may start to get a Stall Warning, just as you are about to touch down - don't worry about it, just keep slight gentle back pressure on the stick so your back wheels touch first (not so much to be pointing your aircraft to the sky mind you!).
Once you've got all wheels down on the runway, start to apply brakes to slow you down (NOT parking brakes, but just the period key brakes "."). Once your speed is under 20 knots, you can exit the runway on the first available taxiway, and make your way to the parking area in front of the main terminals. (Standard taxi speeds are <25 kts on taxiways, <15 kts on the terminal apron). Landing lights OFF (CTRL - "L").
=5= Parking at the Terminal and Shutting Down
Once you taxi to the terminal, and find an appropriate parking space near to it, set your Parking Brakes ON, and go through the following checklist:
Parking Brakes ON (CTRL - ".")
Flaps retracted ("F5")
Engine off / fuel flow off (CTRL-SHIFT - "F1")
All external lights off (strobes, beacons, nav lights, taxi lights, landing lights)
Shutdown time noted for Flight Log
Depending on the complexity of the aircraft, you may have other things that need to be turned off, but for this aircraft, the list should suffice.
=6= Filing your Flight Report Online
Now, with your flight notes in hand, you can shut down FS, and head to our website and the Online Flight Report Form. When you visit this page on our website, you will see a link to "Jump to the Form", use this to get right to the top of the form.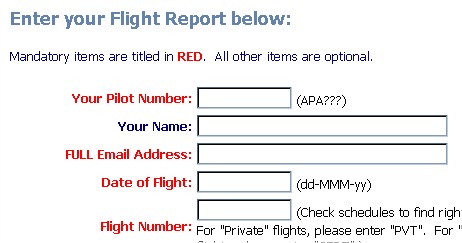 It is pretty straight forward. Everything in RED is required, the rest is only if you want to. For ease of use, the list below contains everything that you are probably going to select for your flight. Again change the values to reflect YOUR flight data - this is just a sample flight log entry:
Your Pilot Number: APA492
Full Email Address: ceo.airpacifica@peggware.com
Date of Flight: 06-May-2001
Flight Number: 1118
Type of Flight: Passenger
Aircraft Type: PA-28 Trainer
Departure Aiport ICAO: TIST
Arrival Airport ICAO: TUPJ
Time at Pushback: 10:55
Time at Shutdown: 11:20
Total Flight Time: 0.4
Approach Type: VFR
Flight was Flown: OFFLINE
Simulator Used: FS98
One of the important things to remember, is that you must log your flight time in decimal hours, not in hours and minutes. We include a handy conversion chart on the Flight Report Form page, to let you know what your minutes converts into as a decimal hour (i.e. 6 minutes = 0.1 decimal hours).
=6= Filing your Flight Report Online
At this point, you've successfully (a) downloaded one of our fleet aircraft, (b) configured your FS program for a default position at St. Thomas, (c) flown your first official flight, and (d) logged your first Flight Report.
Many pilots just continue on their own at this point, logging more flights, and increasing their time flown, so that they can take Category Certification Exams in our Training Center (currently offline), and move up to bigger and more complex aircraft. You do NOT have to continue to the next lesson - and some of you won't be able to because of internet access limitations, or software/hardware limitations.
However, increasingly there are a number of pilots who take this whole flight simming thing a step further, and enter the realm of Real-time Online Multiplayer ATC Controlled Flight. A big mouthful? It is - when you're new - but click on the link below and you can be well on your way to flying more "real" than you ever have before!
===> Next Stop: Getting Online (currently offline)